30 Years of Explorations and Studies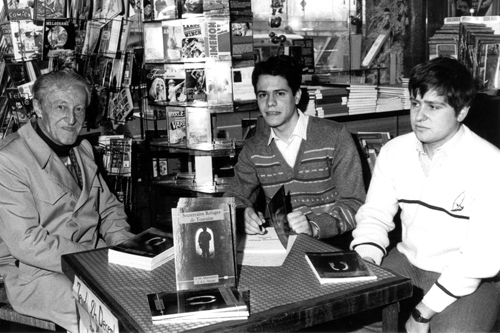 On this picture, Jean-Michel Machefert and Laurent are with Professor Raymond Mauny during a book signing session of Souterrains Refuges de Touraine, in Chinon (France). Raymond Mauny, a recognized specialist of West Africa archaeology and history, worked as a researcher at the French Institute of Black Africa (IFAN). During these African years, he worked with Théodore Monod, the IFAN Director, and also Amadou Hampâté Bâ. Raymond Mauny was also one of the first souterrains specialists in France. He is among the founders of the French Society for Souterrains Studies and published in 1967, with Gérard Cordier, Souterrains-refuges, caves fortes et hypogées de Touraine (in Bulletin des Amis du Vieux Chinon).
Thirty years ago, in 1987, we published
Souterrains Refuges de Touraine
. The source of this first book was a passion for artificial cavities, shared with our friend and co-author Jean-Michel Machefert, when we were teenagers. This publication project was really a big challenge for us and we were motivated by a desire to share our knowledge and our understanding of the wide medieval phenomenon we were discovering.
This challenge has led us to a continued quest for cavities in France but also in other European countries, in Turkey, in West Africa, in Iran or in Vietnam. Year after year, progressively, we have become experts on the subject.
To mark the 30th anniversary of our first book publication, we have decided to present some of our souvenir pictures.
---
Underground Warfare in Algeria, 1954-1962
Sorry, there is no English version of this text.
---
A hundred years ago: 16 April 1917 Chemin des Dames (Aisne, France), the underground quarries swing the battle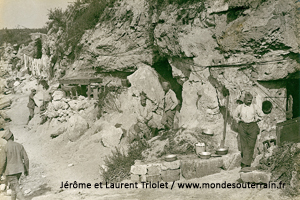 On 16 April 1917, during the Nivelle Offensive, protected inside the underground quarries known locally as "creutes", German soldiers escape the French bombardment and use their grenades and machine guns to decimate French soldiers.
---
Sivasa: "Underground city" in Cappadocia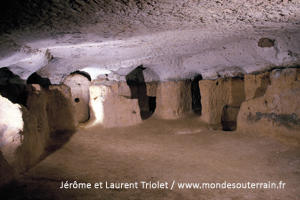 In 1988, we conducted an underground expedition in Cappadocia with Turkish research visas, a French ministry of sport grant and the support of industrial sponsors. We knew the existence of three "underground cities" open to the public and we believed that there was a lot of similarities between "underground cities" and underground refuges that we studied in Western France. The main goal of our expedition was to explore, to map and to conduct a detailed study of a new "underground city".
Once in Cappadocia, our guide took us to the small village of Sivasa (Gökçetoprak). When we entered the hole drilled at the foot of the cliff surrounding the village, we discovered a corridor that leaded to a first room. Room after room, corridor after corridor, we understood that we were beginning an exceptional exploration. Split into two teams, our small group spent a week to map and photograph this big network of 25 rooms. At the end of this work, the villagers showed us new rooms and new corridors dug in other part of the cliff. We were amazed to see that, even after our work on the first network, it was possible to make additional discoveries in Sivasa.
Nearly ten years later, as we began a collaborative work with the team of Roberto Bixio, we learned that, behind the village of Sivasa, our Italian colleagues discovered seven other networks! In Sivasa, there are eight networks dug into the cliff surrounding the village, making a total of a hundred rooms distributed over an area of several hectares!
We were the first to study an untouched "underground city", and the exploration of Sivasa will remain one of our best underground memories. In 1993, we published Les villes souterraines de Cappadoce; it was thefirst synthetic work about this topic, and we devoted an entire chapter to Sivasa. This book is today out of print and, nearly 30 years after our exploration, we thought it might be useful to offer in open access the text about Sivasa, together with the photographs taken during our study and the restored version of our map. This text gives a detailed description and a modelling of the defence organization of this exceptional underground refuge. For those who would like to know more about Cappadocian "underground cities", we recommend the new synthetic study that we published in our book La guerre souterraine released in 2011.
Jérôme and Laurent Triolet, Thursday 9 February 2017
---
New tunnel warfare in Gaza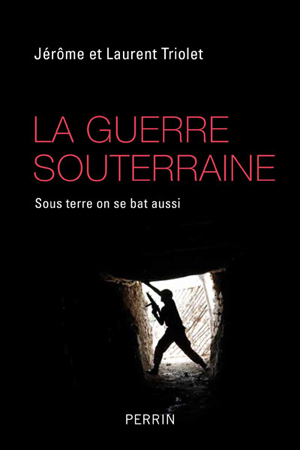 Today the Israeli Army enters the Gaza Strip to destroy the tunnels; we have dealt with this subject in our book La guerre souterraine, published in 2011.
Jérôme and Laurent Triolet, Friday 18 July 2014
---
Commentary of the Chinese film Tunnel Warfare (1965)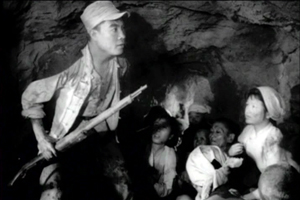 Sorry, there is no English version of this text.
---
Tunnel warfare in North Mali?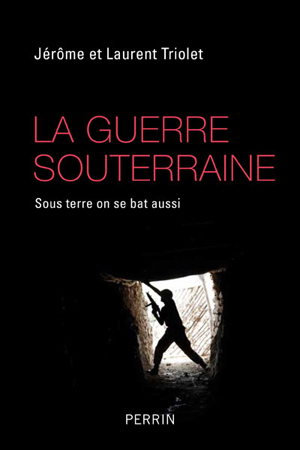 News and reports dealing with the discovery of numerous caves containing weapons and ammunitions in the Ametettaï valley, in the Adrar of Ifoghas seem to indicate that terrorist groups fighting against African and French armies are using tunnels and underground shelters. As a confirmation, a picture published in Le Monde and the corresponding video by France 24, show a half-buried room dug into a soft rock, maybe clay, with a narrow passage to force the invaders to crawl in order to progress inside the connected tunnel.
We have seen in our book, La Guerre souterraine, that Islamic fighters had already used caves and tunnels to fight successfully against Soviet and then Occidental forces in Afghanistan or the Algerian army in the 90's. As a consequence, it's not a surprise that fighters from previous Algerian GIA and GSPC, or trained in the Afghan mountains had been getting into a tunnel warfare.
Jérôme and Laurent Triolet, March 6, 2013 (updated April 2, 2013)
---
Souterrains du Centre-Ouest available to download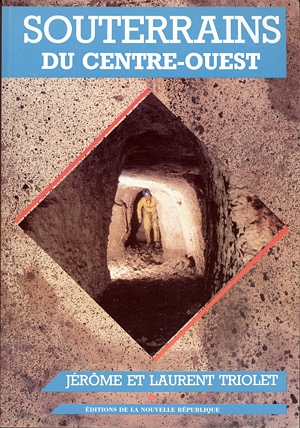 ---